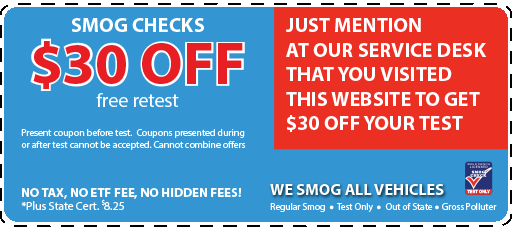 | | |
| --- | --- |
| Smog Check Oakland / Berkeley - 1 | |
" We do not JUST smog your car, we take care of it "

The 11 Points Upon Request :
Inspect antifreeze level (safety)
Inspect tires for inflation, wear, and physical damage (safety, loss of money, gas mileage)
Inspect wiper blades for streaking, tears, deterioration, (damage to car, safety)
Inspect power string level (safety)
Inspect exhaust components and mounting, leaks
Inspect engine oil level (loss of money, loss of performance, safety)
Inspect windshell water level
Inspect for any fluid leaks : engine, transmission, differential, radiator, power steering, fuel
Interior safety inspection; seat belt and dash light testing (checking engine lights)
Battery inspection; check condition of terminals and cranking power (and don't worry, we won't lose your radio stations or reset your code!)
Exterior surface inspection check - look for rust, bumper mounting, paint chips, and structural damage, loose parts
Come visit the Test Only Smog Stations for all your smog inspection needs. As the owners and operators of 7 smog check stations in the East Bay, we are one of the largest and most established smog check experts in Northern California. We are dedicated to helping you pass your smog inspections.
Our technicians will take good care of you. For over 18 years, Test Only Smog Stations have been official State of California smog test centers. We are licensed by the Burea of Automotive Repair to inspect and certify most foreign and domestic vehicles including trucks and SUVs. Our satisfied clients include government organizations, dealerships, and the general public.
We can help you if :
car registration renewal needs
change of ownership smog certification
providing smog certification if you've recently moved to California and must register your car
if you've been referred by the DMV to a test only center
if your vehicle was labeled a gross polluter
if your vehicle has been repaired and is now ready for certification
Most of our stations are equipped with two smog test analyzers for fast and efficient service. We do recommend appointments, but they are never required. Come in, enjoy our free WI-FI and friendly service. We'll get you on your way in approximately 15 minutes.
Contact us Now!
5200 Telegraph Ave.
Oakland, CA 94609
(510) 653-8646
smogcheck@time4smogcheck.com
Mon-Fri : 8:00 - 6:00
Sat : 9:00 - 4:00
Sun : 9:00 - 4:00